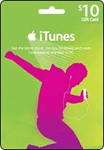 !! INSTANT DELIVERY !!
ATTENTION! For USA accounts only!
After payment of the order, the system will automatically send you a link to download the license key for replenishment of the US account iTunes AppStore for $ 10 (ten US dollars)
The iTunes account allows you to download any songs, movies, games, programs for your PC, MAC, iPhone or iPod from the US App Store
Attention! When registering your account, use the email address on Yahoo or Google. Please indicate your place of residence in Florida, then you will not be charged additional taxes.
The term of accounts is unlimited and the money on it is not burned.
Instruction:
1. Download and install the latest version of iTunes from the official site
http://www.itunes.com
(if it is already installed, you need to log out of your account)
2. Select Shop - Home from the top menu. At the very bottom of the "My Store" in the list, select "United States"
3. To the right of the list of "Quick Links" - "Redeem"
4. In the opened window enter the code of your "iTunes Gift Card" and click "Redeem"
5. After that you will be offered to create an account - "Create Account"
6. Check the box and click "Continue"
7. Enter your email, enter your password, secret question-answer, date of birth and press "Continue"
8. In a new window, carefully fill in all the fields:
Credit Card - None
First Name - your name
Last Name - your last name
Adress - three any numbers Besayd
City - Miami
FL ZIP Code - 33132
Phone - 305 / any 7 digits /
click Continue
Now click Shop and you will be taken to the iTunes store. Your account status will be displayed at the top right
Instructions for offsight for entering and activating the card:
in English
http://support.apple.com/kb/HT1574
in Russian
http://support.apple.com/kb/HT1574?viewlocale=en_US